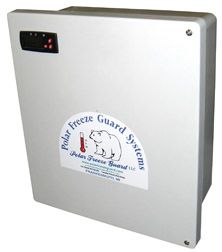 When system is activated, a predetermined charge of RV antifreeze mist purges the piping in each bay, leaving only a small residual of antifreeze in empty hoses and nozzles.

When a bay is used, the system is reactivated, purging only the bay that has been used.

Reactivation is only after a set delay time (1-minute).
U.S. Patent#5746240
Canada Patent#2218566
Eliminates all "weep" water!!!
All RV Antifreeze ingredients are considered GRAS (Generally Regarded as Safe) by the Food and Drug Administration
works with foam brush
works with low pressure
works with high pressure
works with in-bay automatics
will work for any in bay automatics or self serve car washes